5. Future
And perhaps…
…somewhere, between the hills and the cliffs and the sea, it will always be there: a small shrine that encircles a spring of cold, clear water.
And perhaps, if you listen well, you will still be able to hear the voice of its builder, as it echoes between the stones of the shrine and the murmuring of the water from the little spring, as it whispers a blessing and a prayer across the tides of time and beyond the circles of a world.
"In the hope that you shall find your paradise and that your cup shall ever be filled."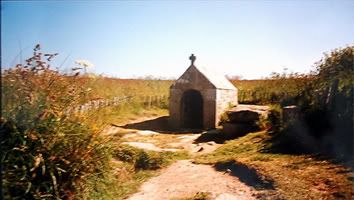 ***
A/N:
The blessing that is carved into the tympanum is loosely based upon Galadriel's "Song of Farewell". The Quenya is based on the elvish grammar and dictionary by H.W. Pesch. The well can be found at the
Pointe du Van
at the Baie des Trépassés in Brittany, France.
---
---
Please feel free to leave a comment!
Anything at all: If you noticed a typo, if you don't like a characterization or description, if you thought a line especially funny, if there was anything you particularly enjoyed …
I am really interested in what my readers think about my writing.
You can either leave a public comment, send me a private message or mail me privately: juno_magic at magic dot ms
Thank you for reading and I hope you enjoyed this story.
Yours
JunoMagic
---
This is a work of fan fiction, written because the author has an abiding love for the works of J R R Tolkien. The characters, settings, places, and languages used in this work are the property of the Tolkien Estate, Tolkien Enterprises, and possibly New Line Cinema, except for certain original characters who belong to the author of the said work. The author will not receive any money or other remuneration for presenting the work on this archive site. The work is the intellectual property of the author, is available solely for the enjoyment of Henneth Annûn Story Archive readers, and may not be copied or redistributed by any means without the explicit written consent of the author.