1. Preface
Dedication:

This story is dedicated to Jen Littlebottom whose profile at FanFictionNet inspired this story.
~~~*~~~
Thank you:
This story was betaed in the most perfect way by the wonderful ObsidianJ. Thank you!
~~~*~~~
Disclaimer:
This is a Tenth Walker Story that follows the books as closely as possible. Now and again I quote from "The Lord of the Rings" during those chapters of "Lothíriel" that parallel the books. This concerns mainly short passages of dialogue which simply could not be changed without debilitating the spirit of the story, some songs and single lines which I think are recognizable as quotes. Therefore I quote "The Lord of the Rings" without giving every single reference as this would break up the flow of the story.
Everything else quoted in this story is either Public Domain or used with permission by the respective authors or quoted according to the rules of Fair Use, giving the appropriate references.
Last but not least, as is the case with all Tenth Walker stories: every word belongs to Tolkien Estate; nothing of this is really mine. It's a writing exercise that has been a lot of fun for me. I hope that maybe some of you will enjoy it, too.
Comments, concrit and congratulations ;-) are always welcome!
You can either leave a public comment, send me a private message or mail me privately: juno_magic at magic dot ms

Yours
JunoMagic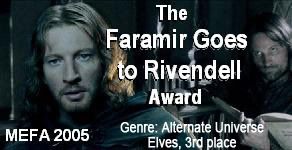 ---
This is a work of fan fiction, written because the author has an abiding love for the works of J R R Tolkien. The characters, settings, places, and languages used in this work are the property of the Tolkien Estate, Tolkien Enterprises, and possibly New Line Cinema, except for certain original characters who belong to the author of the said work. The author will not receive any money or other remuneration for presenting the work on this archive site. The work is the intellectual property of the author, is available solely for the enjoyment of Henneth Annûn Story Archive readers, and may not be copied or redistributed by any means without the explicit written consent of the author.