HASA News
Welcome, October!
Release Date: 01 Oct 06
Category: General Announcement
October 2006 at HASA - Challenges - Holidays - Helpful Hints
---
Challenges
Birthdays!
Post your request at the Birthday Cards Forum
31st, IgnobleBard has requested any story set in Tolkien's universe that has a frightening theme or unexpected twist.
Don't forget to create a story for the birthday card workshop. Enter this story in the challenge for October drabbles, so we have all of wonderful drabbles in one place. (There are instructions on how to do all this at the top of each thread in the Birthday Cards Forum; if you need help just ask Gandalfs apprentice at (gandalfs_apprentice@comcast.net.)
New Challenges
Post your idea in the Prospective Challenges. Promote your challenge. When five people accept a prospective challenge, it becomes a full blown challenge complete with a deadline.
Old Challenges
Browse the Nuzgûl Hutch. Don your mithril armor and wander in. Notice those eyes looking loving at you. Make a nuzgûl happy and adopt one today.
Holidays
Celebrate October here at HASA!
Converted to our modern calendar the following events of Middle-earth's history are worth a feast, or at least a drabble:
October 20 - first publication of "The Return of the King" 1955

October 23 - festival to commemorate the first blowing of the Horn of the Mark in Buckland (3019 of the Third Age)

October 24 - End of the War of the Rings (Battle of Bywater) (3019 of the Third Age)
Helpful Hints: Who Is Online Now?
Did you know that all members can see at a glance who is online now?
Upon logging in,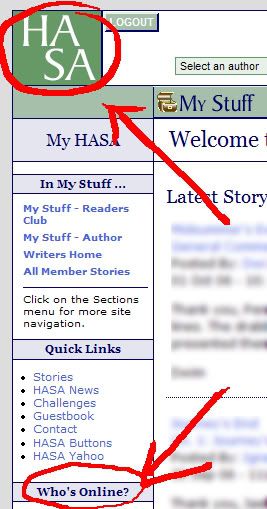 take a look at the left-hand sidebar!
And you will see at a glance just who of your friends here at HASA is online now!

And remember, if you want to, you can give your IM (Instant Messenger) info in your HASA bio. Look at who's online now and start chatting!
Have a great week at HASA!
Your
HASA admin team